Photographer
Inspired By...
Leonard Nimoy: The Icon and the Image (Proposed)
The people who did the documentary on Sex & Religion now turn to a portrait of Mr. Nimoy as a photographer. (more/close)
Leonard Nimoy: The Icon and the Image
Leonard Nimoy's life has been about images. As a ten-year-old boy growing up in a two-bedroom apartment in Boston with his Yiddish-speaking Orthodox Jewish parents, his brother and his grandparents, he discovered the family camera. It was a discovery that would spark a life-long pursuit of art, truth and beauty, often within the context of his Judaism.
At one time enrolled in photography at UCLA, Nimoy abandoned his original love for a life as an actor and celebrity. His is one of the most famous faces in the world. He is more than just a movie star really. He is a pop culture icon. TV Guide recently named his Mr. Spock as one of the 50 Greatest TV Charters of all time.
Now in his eighties, he has returned to his passion for photography. Nimoy's pictures are widely acclaimed and respected, and he is just as engaged as ever in the pursuit of art. Leonard Nimoy: THE ICON AND THE IMAGE looks at his work as a photographer as the man reflects on the life he has led, and the curiosity that drives him to continue to create.
Unbelievably, there has never been a documentary produced on Nimoy's livelong creative quest. The film will mark the first and perhaps only document of artist who has made his way permanently into the lexicon of popular culture.
CALL and RESPONSE I: the art of Leonard Nimoy
An art project inspired by Mr. Nimoy's photos at Mastodon Mesa Gallery
March 22, 2011 – May 6, 2011
opening reception March 22 5:00pm- 8:30pm
Artists:
Leonard Nimoy
Ivory Lee Carlson
Megan May Daalder
Steven Andrew Garcia
Zena Grey
Lisa Katnic
Sage Keeler
Luke McGowan
James Merson, Kevin Blechdom & William Hutson
Suki-Rose Otter
Adam Villacin
Dorian Wood
"Call and response," or antiphony, is a musical technique employed by various cultures, in which one partner offers a phrase, and, in turn, a second partner generates a phrase which connects in some way to the first.
Two of the most ancient traditions of call and response are found in African and Indian cultures:
Sub-Saharan Africa: this tradition has many echoes in contemporary American culture. It is part of what anthropologists regard as a "pervasive pattern of democratic participation" in the civic affairs and religions of the region.
Characteristically, a leader makes a statement, and the responder affirms it.
Those who are witnessing, speaking, or singing are encouraged by the responses and those who are about to experience issues are empowered to be victorious. — Brother Dennis L. Slaughter, History of Gospel Music
Sawaal-Javaab: "question and answer" is a tradition of North Indian classical music, in which one player issues a challenge to the other, who either replicates it identically, or embellishes it.
It is both competitive and collaborative. The two participants are friendly rivals. — Sound of India
Part of the fascination of this concept for Mastodon Mesa is the role this very same technique plays in the lives of…parrots.
Parrots are a prey animal, and therefore form flocks for safety in numbers. As they spend their days ranging over miles of thick forest seeking food, they have developed "contact calls," in which one bird will make a characteristic sound, such as a complex whistle, which is given a particular response by either all who can hear it, or a specific addressee.
These sophisticated, proto-linguistic behaviors are complete with regional dialects and variations between individuals – all for reassurance that even when other parrots are out of eyesight, the bird is not alone, he or she is still a part of a warm, close flock.
Underneath the exponential increase in complexity, how much of human communication – the production of art included – is exactly the same?
The Calls: Leonard Nimoy
The calls have been selected from among the body of work of Leonard Nimoy as a photographer. Though many of the show's participants, and likely, audience, are very familiar with Nimoy as an actor, he has maintained a less widely known lifelong artistic practice.
In the context of this show, it is particularly intriguing to perceptually liberate the voice of Nimoy from the familiarity of performances embedded in the assembly-line process of popular culture, and to instead have the chance to examine these photos as wordless "calls" of unadulterated communication from the individual artist.
The Responses
The responses will be drawn from emerging young artists local to Los Angeles.
Curated by: Mya Stark & Suki-Rose Otter
Call and Response I: Leonard Nimoy
Young artists respond to Leonard Nimoy's artwork
why is there art, or indeed any form of communication? no one involved in this Mastodon Mesa art show claims to know.
what we do know: why there are art shows. or at least why there's this one: for curators, audiences and artists to think about an interesting idea together in a loose, unrestrained way that leads to a stimulating experience.
what's the idea: well, there's something in music called "call and response" -- one participant sings or plays a line, and another participant or chorus sing or play something imitating or based on it.
and, there's a parrot behavior called "contact calls" -- parrots are very social creatures, they flock together for safety because they are prey animals -- yet they have to spread out to search for food.
these sophisticated, proto-linguistic calls are complete with regional dialects and variations between individuals all for reassurance that even when other parrots are out of eyesight, the bird is not alone, he or she is still a part of a warm, close flock.
the structure for the show is: with these thoughts in mind, to take a sampling of the body of work of one artist, and utilize it as "calls" for responses by a group of other, wildly eclectic individuals with varying creative practices, from painting to neuroscience.
what's Spock got to do with it: while best known to many of us as an actor, Leonard Nimoy is a respected art photographer too, and he and his gallery, were open-minded and generous enough to provide the "calls" for the following artists:
Ivory Lee Carlson Megan May Daalder Suki-Rose Otter Steven Andrew Garcia Zena Grey Lisa Katnic Sage Keeler Lola Loshkey Luke McGowan James Merson, Kevin Blechdom & William Hutson Adam Villacin Dorian Wood
Works so far include: a human antenna who will be receiving radio signals with his body, a performance artist dressed as a giant tomato, "finger whiskers," and a wall of video skin.
what have you got to do with it: you are curious and playful enough to wish for silly, thoughtful things like this to be born.
who are we? Mastodon Mesa is a non-profit community-run collective, located in the PDC as part of the Design Loves Art program.
Source: INDIGOGO
Spirit in the Flesh (2009)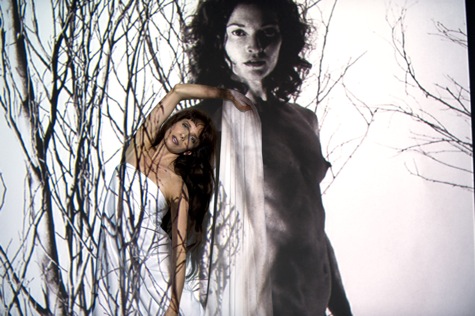 Mr. Nimoy's Shekhina was first made into a dance piece by Elisa Monte in 2004 and later film shown as part of the performance in 2009 by "cinedance pioneer" Amy Greenfield. (more/close)
It all started back in 2002, when Nimoy published a book of photographs called Shekhina, a collection of black-and-white nudes based on the Kabbalistic belief in a female manifestation of God. As it turns out, the former Mr. Spock has quite a knack for photography — a lifelong pursuit he returned to with renewed zeal just a few years ago. (Of the versatile Nimoy's many artistic endeavors beyond the realm of film and TV, this one seems to be the most successful; if you require proof, check out one of his early music videos.)

Elisa Monte was the first choreographer to find inspiration in Nimoy's photos. Her dance piece Shekhina, based on his book, premiered in 2004. New York audiences will get another chance to see Nimoy's work through a dance maker's eyes this weekend, when cinedance pioneer Amy Greenfield premieres Spirit in the Flesh at — no kidding — the Leonard Nimoy Thalia Theater at Symphony Space.
Spirit in the Flesh will share a program with [Amy] Greenfield's Club Midnight, a series of shorts about exotic dancers and strippers that, like Nimoy's photos, insist that spirituality and sensuality are not mutually exclusive. "I just felt that his photos had so much to do with my films," Greenfield told us. "It was the first thing that really related to my work. It continues to be a revelation."
For Spirit in the Flesh, Greenfield combined Nimoy's photos with live dance, music and spoken text from his book. "I soon realized that you can't just stick photos on a screen," she said, explaining that she used advanced video editing technology to create movement in the photographs. "It's taking the photographs and the words from the book and bringing them to life through photo cinema. The dancers are wearing white material so you see the photographs on them, and the photos change as the dancers move."
Greenfield told us that doing the project did not involve hanging out with Mr. Spock, though he gladly provided permission to use his photos. "I think he's very happy to have me do it and not bother him," she said. "He's getting progress reports."
Source: Flavorwire.
Greenfield, who obviously never had watched Star Trek, recorded her reaction to the J.J. Abrams movie premiering the same year in her blog:
Leonard Nimoy in Star Trek
It was very moving to see Leonard Nimoy in Star Trek. Until then I couldn't associate the man who made the photographs for Spirit In The Flesh with Spock. Now I can. His voice was laden with his deep commitment and identification with the deepest meaning of Star Trek. Perhaps it is: putting us in direct contact with the cosmos, and through this encounter putting us in relationship to each other and to encountering the unkown in ourselves. He is the still center in the wild, careening film. The heartbeat behind the scenes.
One of the amazing things about Kabbalah is placing human life in relation to the cosmos. The Shekhina is the link between cosmos, the animation, the spirit of our world and the residing of spirit within us. The Shekhina is the healing power in the world.I felt that in making Spirit In The Flesh and felt it in Leonard's words and in his face. Spock was no longer Spock the first officer but the Wise Old Man with the healing power of unity within him, uniting future and past, uniting planets, uniting the two main characters by uniting feeling with logic.
The Vulcan greeting is the sign for the Hebrew letter, the "Shin", which is the first letter of the word "Shekhina". It goes back to Leonard's childhood in Brooklyn - in the Synagogue when the priests, the Kohanin, would call the Shekhina to enter the temple. Nimoy relates how his father told him no one could look as the light from the Shekhina was too powerful to behold. But he looked and saw the Kohanin with their arms outsetreched, in ecstacy, their hands in rhe sign of the Shin. So he chose that sign as the Vulcan greeting.
In some of Nimoy's Shekhina photographs, the women have the Shin written on them, sometimes like tatoo, sometimes the letter printed as if on their palm reaching out to us, sometimes floating in space above them. A sign of power, of magic, or a brand of yhe sacred upon the body? Uniting the female body with divinity.
At the end of Spirit in The Flesh I have one of the dancers, Andrea Beeman, standing covered with a black shawl, making herself the middle prong of the "Shin" Vulcan greeting, then she spins, with the real cosmos as see by the Hubble telescope on the film screen behind her and embedded in the stars, one of Nimoy's photographs, a star-women, looking down in blessing. the worlds united - going where no woman has gone before.
In Star Trek Nimoy seemed a messenger from a timeless realm beyond. The future beyond death. Or reincarnation? Certainly a visitation of blessing for us. For us to feel. A most un-Spock-like wish. And he isn't an alien destructive creature form beyond, but a visitation of ourselves from beyond putting us in contact with ourselves beyond ourselves.
She also comments on the gendered aspects of the Shekhina that nowadays are only/mostly associated with socially appoved female traits like caring and nurturing. But, she asks, if the Shekhina is "the energy of immanent creation" wouldn't we all be part of that energy and wouldn't there also be a different, darker side to it?
The dark side of Spirit In The Flesh
While theme, the subject if you will, of the film, the Shekhina, as Female, divine source of creation and energy – – of motion, on earth in us, around us, is usually only thought of now (in Kabbalah in US) as "sweetness and light" – comfort,protection, other female associated virtues, that's so very far from the whole picture. It's the watered down version. Here is Vittoria Maniglio in a rehearsal photo shoot (photo by Robert Haller) with Leonard Nimoy photo in background – like the photo is the Shekhina in her aspect as the mother of Lilith, and Vittoria is channeling Lilith, which Vittoria really identifies with by the way.
(...)

The great Kabbaliastic scholar, Gershom Scholem, who links (though also distinguishes) the Shekhina to the Hindu Shakti and Kali (as he does with the ancient Mother Goddesses, supernal and chthonian. Gershom Scholem (whom I got into through the Canadian avant-garde filmmaker, Bruce Elder) says how the Zohar , the sacred book of Kabbalah, recognizes this – the darkness we must sometimes go into to find another depth to reach another level . Shekhina is both the protection and light and 'duende' the dark energy. And I even feel that energy working on this film. Sometimes it's like flying. And sometimes, like now, it seems to be frighteningly dangerous. I now understand when Leonard Nimoy asks in his book "Am I entering dangerous territory?"
In the next excerpt she dwells some more on the dual nature of the Shekhina and the twists of assigned gender.
the dance of spirit in the flesh Tasha Taylor and John Zorn
Today I worked on the section of "Spirit In The Flesh" with Tasha which comes from the words from Leonard's Shekhina book, a poem by Norma Farber which starts "Demon of tenderness, Shekhina accessible…" which traces her descent. Like most of the other section it is to amazing John Zorn Masada string music. How his music gives expression to Leonard's Shekhina photographs and our Shekhina dance. His music is an inspiration, as is the rich voice/music of Zohara, and the mystery of "Spirit Transform Me" by "Oren and z'ev.
I learn more about the Shekhina, from the great 20th century philosopher/scholar of Kabbalah, Gershom Sholem. There are two Sehkhinas in Kabbalism: the one which is '"above", is the active creative flow of the universe – a female creativity. The one "below" is in creation itself. our world. The spirit with us. Dwelling. Both come from wisdom, is associated with wisdom (usually a male attribute?).
In an add looking for interns for the film she concisely summs up what it's all about.
The project, Spirit In The Flesh, transforms the photography series, Shekhina, by Star Trek star – turned – photographer, Leonard Nimoy, into a film joining performance, words, music (by downtown music star, John Zorn) with Nimoy's photographs to bring to the screen a personification of Shekhina – in Kabbalah, the invisible female divine spirit which is the animating force in ourselves and our world. The film, like the photographs, takes as its aim to create, "The photographic image of the invisible" (Nimoy). The film will transform a multimedia performance presented in Manhattan in 2009.
Included in her blog is a scan of an AM New York article entitled "Finding a muse in Mr. Spock." An excerpt of the film, stills and more information about it are available on http://spiritintheflesh.net/