Advertising
TV/Web
Print

Telus
Mr. Nimoy has done a new commercial for a company providing a facebook ap for its Optik TV.
Marking the launch of social networking on Optic TV, Telus has enlisted Spock of Star Trek fame. Actor Leonard Nimoy's appearance in a Telus Optik TV ad starting to air next week marks the first time the company has used a celebrity in its advertising. More
here
.
And here's the clip.

WWLNS - What would Leonard Nimoy Say? (2011)
Won a Lotus Award. (more/close)
Lotus Awards: Best Social Media Single or Multi-Platform Campaign - "What would Leonard Nimoy Say?" (November 10th, 2011)
"The annual Lotus Awards is a competitive advertising awards show that celebrates creative excellence in British Columbia. Established in 1989, the Lotus Awards show was founded by the West Coast advertising community to recognize outstanding creative work of individuals, companies and agencies in BC. Originally just an 'advertising' show, the Lotus Awards have been expanded in recent years to include design, interactive, social media and direct mail. "
A review of the Facebook App can be found here.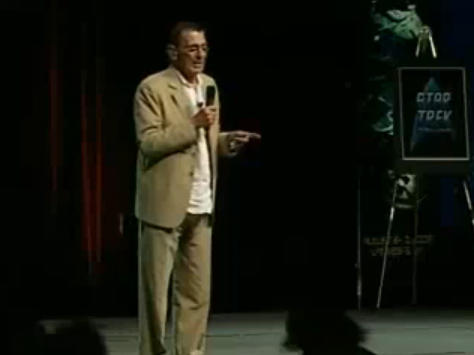 Star Trek Online Las Vegas Webcast (2008)
Leonard Nimoy helps introduce a game. (more/close)
Volkswagen
A classic Beetle acts as a talkshow host. Made in 2008.
Aleve
This one was aired during the 2006 Super Bowl. It is a TV ad for a painkiller to relieve arthritis pain.
Priceline
William Shatner is told that Priceline has a new strategie and that they're letting him go because they hired a new spokesman.
Priceline
William Shatner tries to convince Leonard Nimoy that they both can be spokesmen for Priceline.
Priceline
William Shatner finds himself locked out of the company hotel suite.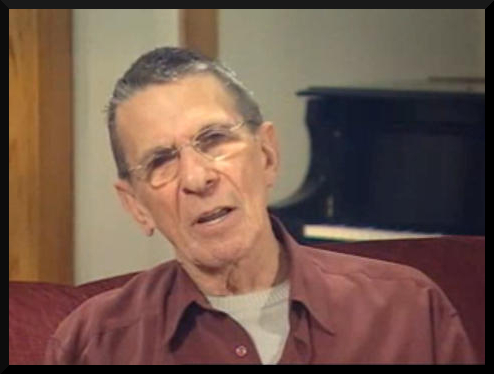 NASA TV ID (2006)
NASA and Star Trek - a logical match. (more/close)
TV Land
Promoting their Inside Star Trek weekend. (Not available at the moment)
Why Do We love the Mouse?
2000 Super Bowl XXXIV commercial for Disney/BMW. Leonard Nimoy wonders about peoples' strange fascination with Mickey's ears.
Time Computers
YouTube description: "Advert produced by Time Computers in 1998 Featuring Mr. Spock (Leonard Nimoy) of Star Trek. The concept behind the Time Machine was that a PC can take you into the future."
Netword (Bermuda Triangle)
The internet is as difficult to navigate as the infamous Bermuda Triangle. Campaign for a search engine company.
Leonard Nimoy was hired "as their spokesperson based on his In Search Of and Star Trek notoriety." See the advertising agency's website for more.
Netword (Pyramids)
Navigating the internet doesn't have to be as challenging as building the pyramids.
Netword (Questions)
Is there life after death? How large is infinity? The internet doesn't have to be as puzzling as those questions.
Netword (UFO's)
Finding an alien might be easier than navigating the internet.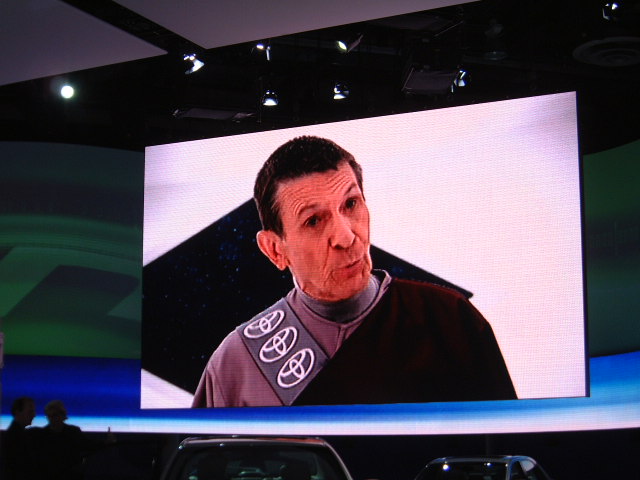 Unknown Auto Show
More information wanted.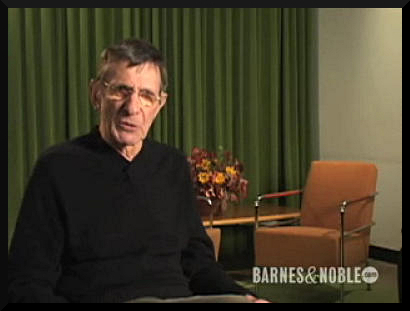 Barnes & Nobel: Meet the Writers
Leonard Nimoy talks about The Full Body Project on the Barnes & Noble website to promote his book. (more/close)
MCI
The entire cast of TOS plus Jonathan Frakes did a commercial for a phone company in 1993.
Hallmark Galileo Shuttlecraft Ornament
In 1992 Leonard Nimoy did a commercial for a shuttlecraft Christmas tree ornament for Hallmark.
Oldsmobile
In 1991 Leonard Nimoy appeared together with his daughter Julie in a car commercial praising the advantages of an Oldsmobile mini van.
Western Airlines
1993 Commercial for Western Airlines with William Shatner and Leonard Nimoy. Plus some footage that seemed to have been intended to promote Star Trek: The Voyage Home at Show West.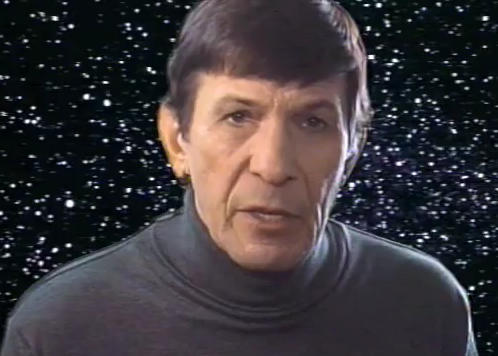 Wingz (1987)
(more/close)
YouTube description: Leonard Nimoy "hosts" new product video first used in "Time Shuttle" at Macworld SF (1987); produced by the product's marketing lead, Douglas Edwards with outside video producers through Muller & Company for Innovative Software (later Informix); there were individual Mac monitors in the enclosed Time Shuttle booth, one for every two visitors to showcase the capability Nimoy describes. Rumors that Nimoy would be in the booth caused a mad rush at the opening of the show each day and blocked aisles surrounding the exhibit. Show management threatened to evict us because we had too much traffic. Originally built for a one time use, the exhibit was a hit and was used for a year at Macworld, Comdex, and Unix events.

Lehman Brothers Ad 1987
Famous last words.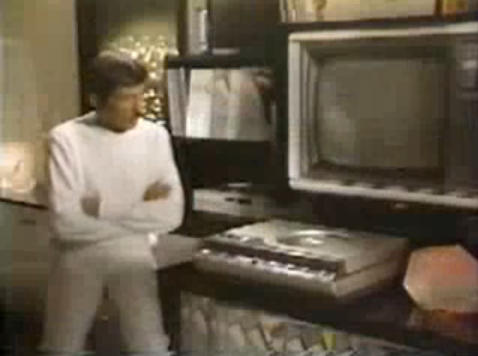 Demonstration of the Magnavision VideoDisc Player
As one person on YouTube remarked, there might be at least one appearance he'd like to forget.
YouTube description: "Leonard Nimoy pitches the Magnavox Laserdisc player in LEONARD NIMOY DEMONSTRATES THE MAGNAVISION VIDEODISC PLAYER, a vintage demo produced by the manufacturer in 1981. At the time manufacturers were trying to position the format away from rival RCA, whose Selectavision disc players were poor in quality and unreliable. This is PART 1 of the disc itself, with Nimoy introducing the benefits of the Laservision process for interested consumers -- Parts 2 and 3 contain selling tips designed for Magnavision salespeople, showing clearly the disadvantages companies had to try and persuade a skeptical public only into things that could record."
YouTube description: Leonard Nimoy in a commercial for Edmonton Telephones pagers. Probably aired in the late 80's.
Magnavox
Commercial for the Star System Color TV from 1981.
Magnavox
Odyssey Video Game 1981. Leonard Nimoy narrates the spot.
Magnavox
Leonard Nimoy details the advantages of the Magnavox Star System Color TV (Date unknown)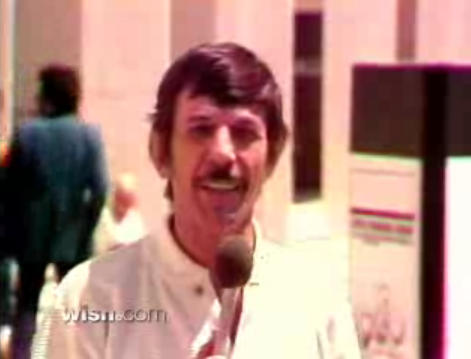 WISN TV Hello Milwaukee Celebrity Promo
Teijin
Leonard Nimoy did a commercial for a Japanese textile and pharmaceutical company, Teijin, for the Japanese TV market. (Mentioned in May 2009 edition of Geek Monthly)
Wisconsin Bell Telephone
The newest in computer technology helps companies track down problems in their communication systems before they become a problem. Narrated by Leonard Nimoy. Broadcast sometime between 1978 and 1979.
Note: only the first spot is done by Leonard Nimoy
Atlantic Bank
YouTube description: "Leonard Nimoy explains the logic of why Atlantic Bank is for you in this vintage 1979 commercial."
Wanted:
Atlantic Bank Card: Leonard Nimoy with outer space background discusses electronic banking.
Atlantic Bank: Leonard Nimoy talks about high technology of "Electronic Bank Terminal" and is beamed up at end.
(Both listed at MacDonald & Associates Television Commercials. Unfortunately they don't sell to private persons. http://www.macfilms.com/financial%20Services.htm#3.1 BANKS/BROKERS/INSURANCE)
Public service announcement for various childhood diseases in 1988. (http://www.imdb.com/name/nm0000559/otherworks)