Honors & Awards
The Boston/New England Emmy Awards

Doctor of Humane Letters degree from Boston University (2012)
(more/close)
Leonard Nimoy receives a Doctor of Humane Letters from Boston University
Actor Leonard Nimoy smiles as he is introduced during Boston University's commencement exercises on the school's campus in Boston, Sunday, May 20, 2012. Nimoy, who has also directed films as well as had prominent photography exhibits, was awarded an honorary Doctor of Humane Letters degree during the ceremonies. More photos at
India Times
Photos catching Mr. Nimoy leaving his hotel at Zimbio.
Photo Sources: Electric Avenue and my-klutzy-life on Tumblr and chersuuu on Instagram and bostonturgy
Leonard Nimoy: Commencement Wisdom And West End Memories
In Boston, references to a place called the "West End" often provoke quizzical looks. Where is it? What is it?
The West End, in a nutshell, is the area between Beacon Hill and North Station, near Mass. General Hospital and Mass. Eye and Ear Infirmary. The streets are tangled, dominated by huge hospital buildings, residential towers, and parking lots.
It wasn't always that way. There used to be a tight urban neighborhood there, much like the North End. But it fell victim to the 1950s "urban renewal" craze, when the Boston Redevelopment Authority leveled whole neighborhoods in favor of modern "super blocks," like Government Center.
Today there are few people left who remember the working-class tenement buildings of the West End. But one of them, remarkably, is actor Leonard Nimoy.
Yes, the man who played Mr. Spock on Star Trek was born and raised in the West End and often speaks fondly of his Boston roots. That's at least part of the reason why Boston University invited Nimoy to address graduates of the College of Fine Arts on Saturday. Radio Boston's Adam Ragusea attended and spoke backstage with Nimoy.
Leonard Nimoy will receive a Doctor of Humane Letters degree from Boston University on Sunday, May 20.
Speakers & Honorees
As is Boston University's tradition, the names of the Commencement Speaker and honored guests were announced on May 3 during the annual Senior Breakfast.
Eric E. Schmidt, executive chairman of Google, will deliver the University's 139th Commencement address. The Honorable Sandra L. Lynch, chief judge of the United States Court of Appeals for the First Circuit, will speak at the Baccalaureate Service.
Others who will receive honorary degrees are: Norman R. Augustine, retired chairman and CEO of Lockheed Martin; Thomas G. Kelley, retired Massachusetts Secretary of Veterans' Services; and Leonard S. Nimoy, acclaimed actor, director, recording artist, author, and photographer.
Family and friends not able to be at Nickerson Field can still watch the Commencement ceremony including the commencement address and awarding of honorary degrees via live webcast or listen to the ceremony locally on Boston radio station WBUR 90.9FM.
Source: BU
(May 2012)
36th Annual Saturn Awards (2010)

Leonard Nimoy won a Saturn Award in the Best Guest Starring Role in Television categrory for his role in Fringe. The 36th Annual Saturn Awards took place on June 24 in Burbank, California. (more/close)
Mr. Nimoy's Acceptance Speech
Saturn Awards Red Carpet Interview
More at Trek Movie here and here with more photos from the event and clips with interviews on the red carpet and at Film Review Online and here at Exposay.
Actors nominated by the Academy of Science Fiction, Fantasy & Horror Films for Best Guest Starring Role were:
Bernard Cribbins (Doctor Who: The End of Time) (BBC America)
Raymond Cruz (Breaking Bad) (AMC)
Michelle Forbes (True Blood) (HBO)
John Lithgow (Dexter) (Showtime)
Leonard Nimoy (Fringe) (ABC)
Mark Pellegrino (Lost) (ABC)
Douglas S. Morrow Public Outreach Award (2010)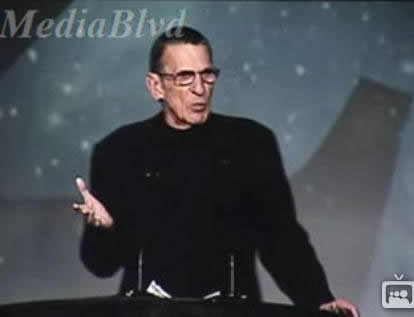 Leonard Nimoy spoke at the 26th National Space Symposium, where he was given the award. (more/close)
Nimoy said he didn't feel qualified to speak to the merits of the president's new plan for space, but that it sounded like a positive direction.
"All-in-all I'm looking forward," he said. "I hope it's going to work out for the best."
Nimoy said he has followed space exploration throughout his career, and remembers driving to work on the set of Star Trek when he heard the news of the Challenger accident.
"Those pictures will never go away," he said of his memories of the explosion replays.
It's just beginning to sink in that the space shuttle era is ending, Nimoy said.
"I think people will be grieving," he said. "I will. I'll be sad to see it go. It's been a very important part of our image of NASA and space for the last number of years."
More at SPACE.com
Here are a few more links on the subject:
Actor Leonard Nimoy Shares Views on Creativity (Article)
26th National Space Symposium (Photos & Video)
Leonard Nimoy and Star Trek come to Colorado (Podcast)
Media Boulevard (photos, videos and an account of the ceremony)
Boston Declares November 14th "Leonard Nimoy Day" (2009)
While attending the New England Fan Experience, Leonard Nimoy was honored by his hometown of Boston. The proclamation was read at the convention. (more/close)
As Trek Movie reports:
The original Spock (aka 'Spock Prime'), Leonard Nimoy is returning to his home town of Boston this weekend to attend The New England Fan Experience. And Boston is so proud of their native son, that they are declaring Saturday (November 14th) "Leonard Nimoy Day".
(...)
TrekMovie has obtained a copy of the proclamation that will be signed by Boston Mayor Thomas Menino:
PROCLAMATION
Whereas:
Boston native Leonard Nimoy first appeared on national television's Star Trek series as Spock in 1963, and now has 45 years later, returned to that character in a film of the same name; and
Whereas:
Leonard Nimoy has returned to Boston this weekend to appear at the New England Fan Experience a multi-genre event which is geared towards public interest in learning more about science fiction, popular culture, gaming, animation, plus science and technology; and
Whereas:
New England Fan Experience Panels, seminars, workshops and discussions offer a well rounded entertaining learning experience, as a program that benefits Boston's people, young and old; and
Whereas:
This weekend's New England Fan Experience represents a remarkably interesting gathering of some of Massachusetts' finest actors and artists, including Leonard Nimoy, local author Wen Spenser, and published manga artist, Bettina Kukouski; and
Whereas:
The City of Boston takes great pride in the cultural contributions of those who create entertainment in modern media and popular culture in our city; NOW
Therefore,
I, Thomas M. Menino, Mayor of the City of Boston, do hereby proclaim today, November 14, 2009 to be
Leonard Nimoy Day
in the city of Boston.
Visitors to the Science Museum in Boston might remember him from the introduction to the sound system of the museums IMAX/Mugar Omni Theater in the '80.
The Boston Phoenix runs a piece called "Hardly Illogical: Leonard Nimoy Day, November 14". Commenting on Boston's policy in those matters they remark on a acerbic note: "it should be pointed out that this city has a bizarre habit of handing these things out like they were free samples of organic cookies."
The Leonard Nimoy Angel Award (2009)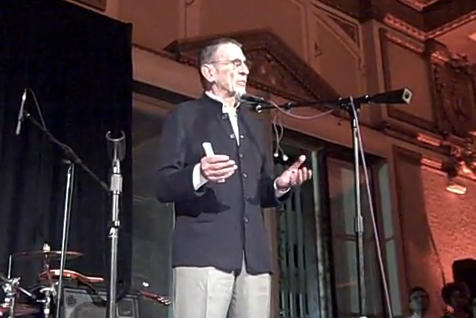 Leonard Nimoy was presented with the first Leonard Nimoy Angel award by the Company of Angels, Los Angeles oldest non-profit theater company, at their 50th Anniversary Award Ceremony and Gala on October 17th. He was one of the troupe's co-founders in 1959. (more/close)
The statement on the company's website reads:
The award is named after actor Leonard Nimoy, best known for his iconic portrayal of Mr. Spock in the television and film series, Star Trek. The Leonard Nimoy Angel is an award bestowed on individuals and/or organizations that have made significant contributions to theater in Los Angeles, and to Company of Angels, in particular.
Nimoy will be recognized for his role as a founding member of the theater company. Also to be honored will be veteran actor RobertEllenstein, for his contribution as the company's first Artistic Director.
"I'm looking forward to celebrating Company of Angels 50th Anniversary Award Ceremony and Gala," said Nimoy. "My congratulations for so many years of good work!"
Eclipse Magazine adds this piece of Star Trek related information:
The Award Gala is produced by actress Marlene Forte who sits on the board of CoA as Artistic Director. Marlene Forte was recently seen on the big screen beaming people away as the first Latina Chief Transporter in JJ Abrams' blockbuster film 'Star Trek'.
For photos of Leonard Nimoy arriving at the Company of Angels Awards go to Accidental Sexiness. and there is also a report at Trek Today.
I found two new photos from the festivities at Tex[t]-Mex Gallery here and here.
DragonCon Presents Julie Award to Leonard Nimoy (2009)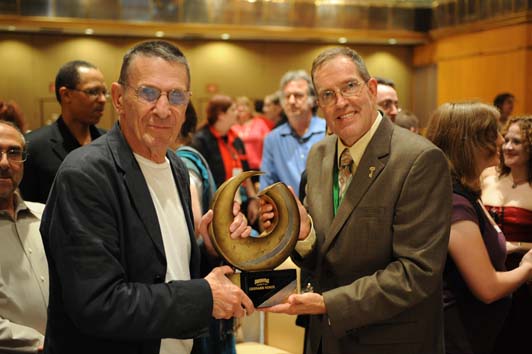 "The Julie Award is bestowed for universal achievement spanning multiple genres, selected each year for our esteemed panel of industry professionals." See Daily Dragon Online for more.
Saturn Awards (2009)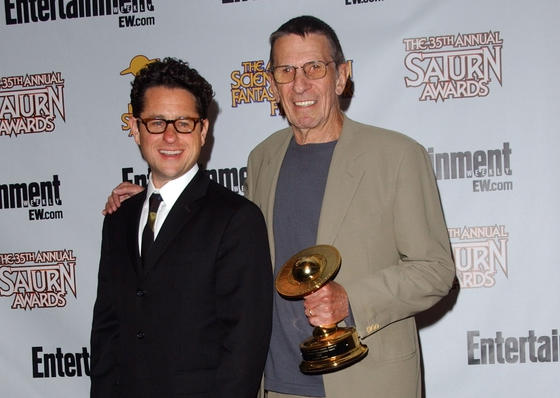 On June 24th Leonard Nimoy received the Lifetime Achievement Award from the Academy of Science Fiction Fantasy & Horror Films, which was presented to him by J.J. Abrams at the 35th Annual Saturn Awards. (more/close)
35th Annual Saturn Awards - Press Room June 24, 2009 - Burbank, CA. + here and here. Plus more photos of the event at Trek Movie here and here.
NewsOK.com asked what advice he would give himself if he had the chance to meet his younger self Star Trek '09 style and about audience reaction to him in the new movie:
"Q. In the new film, when you appear on screen, especially when we see your face for the first time, a noise goes up from the audience. Have you sat with an audience to watch the movie; if so, how gratifying was that experience and how do you interpret it?
A. Extremely gratifying. It's an accumulation of emotion from a 44-year relationship with the audience. Especially pleasing since Spock was marginalized by the makers of the movies and series that followed the first six."
Smak News has a photo of Leonard Nimoy and J.J. Abrams at the Saturn Awards and this little story to tell:
In his gracious heartfelt acceptance speech, Nimoy revealed that one of his first films was in the science fiction genre. He was certain it would launch his career into orbit. Sadly, "Zombies of the Stratosphere" apparently barely had the legs to reach the atmosphere. One of Nimoy's lessons from this was to aim higher -- In Zombies, he had played the second Zombie in the door. In the future, Nimoy would aim to be the first zombie or alien. . . .
In presenting the Award, JJ Abrams sang the praises of Leonard Nimoy's family, especially his wife Susan. He indicated we should all visit Mr. Nimoy's home which no doubt led the Nimoys not to linger at the after party, lest any of us try to follow him home. ...
In another article about Jeffrey Katzenberg getting his Saturn award the story how he got Leonard back into the ears for ST: The Motion Picture is related:
NEWS FLASH: Leonard Nimoy might never have played Spock in the Star Trek movies were it not for Katzenberg's vision, drive determination and ability to beg when necessary.
Paramount was developing the first Star Trek movie when Katzenberg was an executive at the Studio. He knew Nimoy considered his vulcan days a thing of the past having previously turned down any Star Trek overtures.
Nevertheless, Katzenberg made a pilgrimmage to Broadway on behalf of Paramount, Star Fleet Command and fans everywhere. Nimoy was performing in Equus, playing Dysart, a psychiatrist treating a troubled young man who had blinded six horses. Katzenberg watched Nimoy's brilliant performance and must have realized Nimoy was in an alternate galaxy from Vulcan. At that point, I imagine Jeffrey wished James Doohan (Scotty) could just "beam Nimoy back to Paramount."

When Katzenberg bravely went where no other Paramount executive had dared to go -- backstage to see Leonard Nimoy, he must have felt he was crossing his own final frontier with no special effects for protection..
Of course, Jeffrey Katzenberg possessed something better than special effects -- persistence and a good pair of knees. He literally got down on his knees to beg Nimoy to put back on those pointy ears.
Honorary Master of Fine Arts (2008)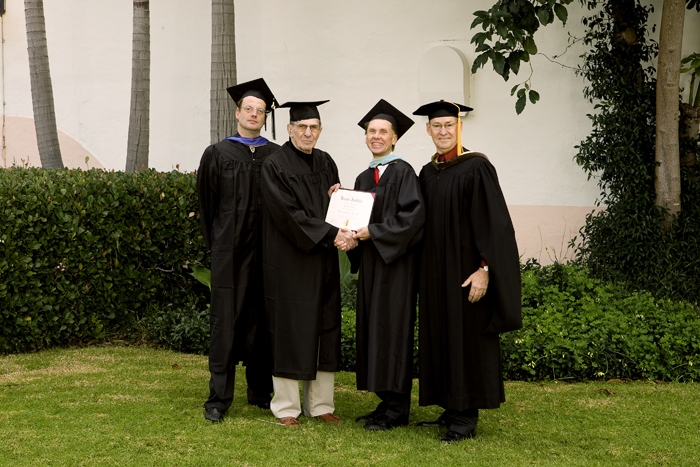 On December 12 Leonard Nimoy received an honorary Master of Fine Arts degree in photography from Brooks Institute. (more/close)
In his blog the president of Brooks Institute's writes:
"Although Brooks Institute has held over 300 graduations in its 63-year history (six ceremonies annually!), the commencement held on Sunday, December 21, 2008 was quite special. Accomplished actor, author, film director, and photographer Leonard Nimoy was the featured speaker. Mr. Nimoy's funny and insightful remarks were enthusiastically received by the large crowd at the historic Arlington Theatre in downtown Santa Barbara. Mr. Nimoy also shared over 30 photographic images from his illustrious career. He expressed sincere appreciation to receiving an honorary Master of Fine Arts degree in photography from Brooks Institute." (more/close)
More photos from the event can be found here: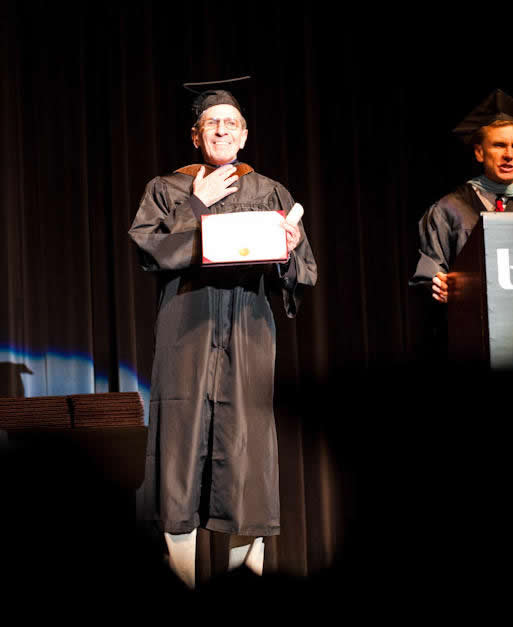 "Leonard Nimoy was the graduation speaker for Brooks Institute December 2009 graduation class. During this event he was awarded the Honorary Master of Fine Art degree from Brooks Institute for his contribution to the photographic world. His graduation speech was inspirational and gave the graduates and attendees insight into his vision of what he sees through the lens.
"
Symphony Space Performing Arts Award (2003)
(more/close)
Cultural Awards Serve Up Feast for the Soul (2003)
Lauding Leonard Nimoy's devotion to Yiddish, Symphony Space artistic director Isaiah Sheffer dubbed the performing arts award he presented to the multitalented actor — aka the well-loved Vulcan Spock — as der emeser mentsch award. "My parents came from Russia [as] immigrant aliens," Nimoy said. "I was born in Boston and became an alien."
Nimoy, whose photographic book "Shekhina" created controversy recently, recalled starring in "founder of the Yiddish art theater Maurice Schwartz's California production of 'Shver Tzu Zayn a Yid' ('Hard to be a Jew').… When I spoke to him in Yiddish, Schwartz, who was trying to develop an English audience, would say, 'Speak English!'"
More here.
Master of Education (1980's)
(more/close)
Nimoy's search for knowledge in general prompted him to enroll recently in a graduate studies program at Antioch College, where he's in education. "Once I get it," he says, "I'm not going to do anything with it at all. I'm not interested in the degree itself; I'm curious about what will happen to me during the process. of getting it."
"Like I said, I lead a pretty bourgois life, and I'm always interested in expanding my mind, finding new values. I want to see what will happen to my head during the 15 months it'll take me to complete the project. I don't know where it'll lead me. Maybe," Nimoy says, "I'll find out what I should be when I grow up."
(See Print/Interviews: Nimoy's a Natural As Holmes, 1983)
Emmy Award Nominations (1967 - 1969)
(more/close)
1969 - Nominated - Academy of Television Arts and Sciences
Outstanding Supporting Actor in a Drama Series
Star Trek [TV Series]

1968 - Nominated - Academy of Television Arts and Sciences
Outstanding Supporting Actor in a Drama Series
Star Trek [TV Series]

1967 - Nominated - Academy of Television Arts and Sciences
Outstanding Supporting Actor in a Drama Series
Star Trek [TV Series]
In this interview Mr. Nimoy describes the day the envelope with the notification from the Academy of Television Arts and Sciences arrived.