Photographer
Shekhina (2002)
Published in 2002 the book of photography created some controversy as it was showing nude models in religious context, touching on questions of the female place and role in religion. It's main concern, though, was "to explore the feminine aspect of God in human form, including the issues of sensuality and sexuality." In May 2004 Mr. Nimoy's Photographs were first shown at the R. Michelson Galleries in Northampton.
The Full Body Project (2007)
Who are these women? Why are they in these pictures? What are their lives about? How do they feel about themselves? These are some of the questions I wanted to raise through the images in this collection. - Leonard Nimoy. (more)
Secret Selves (2010)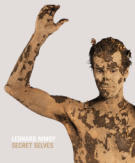 Leonard Nimoy had his first stand alone exhibition at a museeum in 2010, showing photographs that delve into questions of identity. Visit MassMoca's page for Mr. Nimoy. All three books can be ordered from R. Michelson Galleries, where you can also find more information about the artist. Sponsor for the MassMoca exhibition Bonnie Moss shares memories of the opening day with us here.