Public Service Announcements
Audio/Web
TV/Web
A message from Leonard Nimoy for listeners of Selected Shorts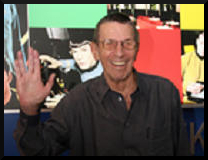 PRX Fundraising Voices - Leonard Nimoy (Contribute and Prosper 2009)(more/close)
Leonard Nimoy recorded a fundraising ad for public radio stations in 2009:
"Hello, I'm Leonard Nimoy. Perhaps you remember me for my role on the original Mission Impossible. Or, maybe you know my work on another television program where I was known to use two distinctive hand gestures - one that encouraged a long and prosperous life, and the other rendered another life form unconscious. Naturally I prefer the first of those gestures. You can make a similar life affirming gesture by supporting the programming you enjoy on your Public Radio station. Please call or go online now, and hopefully we'll all live long and prosper. Thank you."
Go to the Public Radio Exchange website to listen to him.
National Jewish Center for Immunology and Respiratory Medicine (1995)Radio station public service announcements on cassette. Include PSA's from leonard Nimoy, Scott Bakula, Gregory Peck and others. Source: The Leonard Nimoy Album Page. Listen to the PSA by Leonard Nimoy here.
Prevent Forest Fires (1985)
PSA by the Forest Service, USDA, State Forresters and the Ad Council about preventing forest fires. Narrated by Leonard Nimoy, making use of the Spock character. 
Get Off (1973) (more/close)
Performer(s): Ringo Starr of The Beatles, Phil Ochs, Ravi Shankar, William Shatner, Leonard Nimoy and Nichelle Nichols of Star Trek, Loudon Wainright III, Bob Weir of The Grateful Dead, Wolfman Jack, Stevie Wonder, Frank Zappa, Jim Dandy of Black Oak Arkansas, Robert Lamm of Chicago, Alice Cooper, Judy Collins, Jim Croce, Pat Simmons and Tiran Porter of the Doobie Brothers, Dr. John, Glenn Frey of the Eagles, Mark Farner of Grand Funk Railroad, Burton Cummings of Guess Who, B.B. King, Al Kppoer, Loggins & Messina, John McLaughlin, and several others .
Pressed by MCA for National Association of Progressive Radio Announcers STEREO Promo-Only LP .
Comments: Promo-Only 1973 LP utilizing celebrity spots. From the inside gatefold liner: "Music is a life force. These celebrities and the members of the National Associtation of Progressive Radio Announcers proudly offer this collection fo Public Awareness Announcements for radio, in the hope that someone, somewhere, will stop and think." Several artists sing original short tunes, including Sha Na Na, Stevie Wonder and Phil Ochs, Star Trek crew is in character, Nimoy: 'as a Vulcan, I find the use of hard drugs highly illogical.'
Source: The Leonard Nimoy Album Page
"In 1973 the National Association of Progressive Radio Announcers (NAPRA) got involved in an anti-drug campaign organized by the Progressive Broadcasting Foundation. Part of this "hard drugs awareness movement" was a series of television and radio messages programmed by concerned broadcasters. NAPRA talked a large number of famous rock musicians to record small 30 to 60 second radio spots telling to "get off" hard drugs. Among these were B.B.King, Ringo Starr, Stevie Wonder, Frank Zappa, members of the Hollies, Chicago, Eagles, Grateful Dead, Sha Na Na, and many others including the Star Trek crew. The 47 spots were distributed to NAPRA members as a not- for-sale LP titled Get Off (NAPRA-1)." Source:
A Collector's Guide to Chuck Berry
.
Boy Scouts of America Radio PSA (1970's) (more/close)
7" 33 1/3 RPM record. 16 thirty second American Radio Spots with Ricardo Montalban, Elliot Gould, Chuck Connors, Patrick Duffy, Tom T. Hall, James Brown, Nipsey Russell, Pres. Gerald Ford, Jack Klugman, Michael Landon, Leslie Nielsen, Leonard Nimoy, Marshall Tucker Band, Joe Greene, Martin Balsam, Jimmy Stewart. Album includes: Three page fold out cover and Programming postcard. Source: chaseclub
Toys for Tots (early 1970's)
Mr. Nimoy was already doing Mission Impossible when this PSA was recorded. (more/close)
Looks like Mr. Nimoy's grandson, Jonah, is following in his footsteps providing support for "Toys for Tots" in 2014.