Public Service Announcements Audio/Web
TV/Web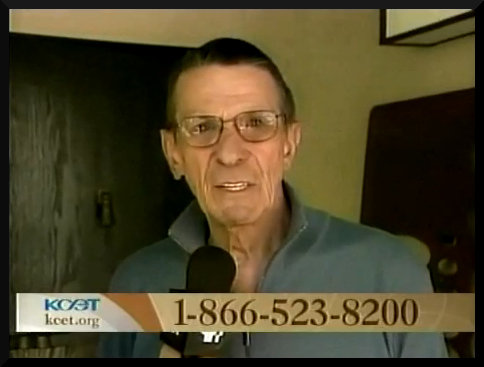 PBS Telethon (2009)
Leonard Nimoy, among others, recorded a fundraising pledge for the Public Broadcasting Service (PBS) in 2009. His lines are: "Star Trek went on the air in 1966. Please call now to support PBS. It's only logical. PBS is for everyone."

Fundraising Pledge for Public Television
Leonard Nimoy asks where the fun is in having a tax funded public broadcasting system. (Date unknown, probably 80-ish)
Prevent Forest Fires (1985)
PSA by the Forest Service, USDA, State Forresters and the Ad Council about preventing forest fires.
Smokey`s New Ads Mean It`s No More Mr. Nice Bear
June 11, 1985|By Lorenzo Benet , Los Angeles Daily News
Gone are the days when Smokey Bear was a friendly, laid-back ranger who could only nod in disgust at the charred remains of a forest devastated by fire.
Borrowing the theme from the World War I advertising campaign ``Uncle Sam Wants You for the U.S. Army,`` the Los Angeles-based advertising firm of Foote, Cone & Belding created a new poster of Smokey getting tough with would- be arsonists and careless campers.
Armed with a shovel in one paw, the bear, outfitted in his traditional ranger hat and blue jeans, points toward the viewer and seems to be repeating the logo ``ONLY YOU`` (as in, ``Only you can prevent forest fires``), which appears at the bottom of the poster.
In March, the poster was tacked to the walls of school buildings and fire stations and posted in state and federal parks. But that`s not the only medium the U.S. Forest Service is using to reach audiences. That same month, it also launched a nationwide television public service ad campaign that shows a middle-class father being arrested and jailed for accidentally starting a forest fire. In the 30- to 60-second spots, the man portraying the smartly clad father says, ``I don`t understand this; I didn`t mean to start a forest fire,`` to which actor Leonard Nimoy is heard to say at the ad`s end, ``Whether it`s accidental or not, one way or another you`ll pay.``
For a decade, the forest service has attacked the problem with a low-key approach -- including posters showing a lovable Smokey cradling small forest creatures.
Why the new hard-line tactic?
Officials hope the new TV ad campaign will reach arsonists and others who may not be aware of the little-known fact that forest fires of all origins are punishable by imprisonment, in addition to fines and restitution payments.
Source: Sun Sentinel
Love. It Comes in All Colors (1970)
Love. It Comes in All Colors was a National Urban Coalition television commercial and print advertisement from 1970. Source: Wikipedia (more)